Does the earth exercise agency, or does the earth have a mission that it has been fulfilling?
Ramona
_______________________
Dear Ramona,
The earth has indeed been faithful in fulfilling its assigned mission. The revelation known as The Olive Leaf (D&C 88) gives us a glimpse of the earth's eternal destiny and hints at the requisite obedience.
There is a law given to "the earth and all the planets" and even "unto all things, by which they move in their times and seasons; And their courses are fixed, even the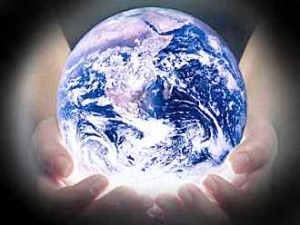 courses of the heavens and the earth", which obediently "rolls upon her wings" (vs 42-45). Newton has confirmed that the same law that keeps planetary courses fixed is the same law that gives us the constant acceleration of bowling and tennis balls dropped from towers in Pisa (which should make Galileo happy). For this reason, I suppose this law is inviolable and one that acts upon everything no room for disobedience.
The earth is equally obedient to another law which warrants high blessings in a future day. This law is "the law of a celestial kingdom" clarified as filling "the measure of its creation", and like the "righteous" who will one day "inherit it", the earth "shall be sanctified; … die, … be quickened …, and shall abide the power by which it is quickened" (vs 25-26). We only have the most general of statements about what the earth does to fill the measure of its creation. The clearest quote comes from another modern revelation affirming the divine call for marriage, "that the earth might answer the end of its creation; And that it might be filled with the measure of man" (D&C 49:16-17).
-Gramps