Question
Dear Gramps,
I've read about godly sorrow but there seems to be very little written about it. What is it and more importantly, how can we know we are experiencing it?
John
Answer
John,
Sometimes it means sorrow for having sinned, rather than sorrow for having been caught sinning. However it also refers to the spiritual reaction to the eternal perspective of the prevalence of sin in the world. An example would be Mormon, and his spiritual reaction to the evil and wickedness he beheld in his people as they turned from God prior to their destruction at the hand of their brethren, the Lamanites.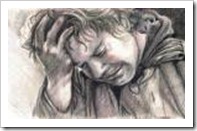 In both cases it not only involves the sorrow for sin, but the sorrow for the pain and suffering brought about by sin. You see, when someone sins, someone else is nearly always hurt along with the person who sinned. It is this misery that fills families, neighborhoods, cities, and sometimes even nations (remember the Nephites) with the awful consequences of sin that can take generations to overcome.
When one beholds this kind of scene with an eternal perspective, or with a view similar to how God views us all, I think it is quite accurate that it is called godly sorrow, for how else would Heavenly Father feel when he beholds such suffering and misery that could have been avoided if only the sins had never been committed? It is Heavenly Father's will that we be filled with joy and happiness throughout our lives and through all eternity. Any time we are dealing with the consequences of our sins, we cannot feel the joy Heavenly Father wants for us. And because he loves us with a perfect love, he sorrows for our suffering even though he knows we brought it upon ourselves.
The hope this gives me is that because I know Heavenly Father sorrows for our suffering, I also know he is eager to fill us with joy and happiness when our time of repentance is completed. Remember the Prodigal Son and how eager the father was to welcome his rebellious son home again.
Gramps