Gramps,
I have a question for you. If I am alive when the Savior returns and am allowed(worthy) to stay on the earth, how soon will my cancer(stage IV breast cancer (currently stable) be cured? Will it be a little while? Or would I be healed right away? I'm not talking about the resurrection. I'm talking about me as a mortal if I am alive when He returns.
Thank You
Jean
__________________
Dear Jean,
We don't have a detailed timeline of how everything well go so I can't give you a definitive answer.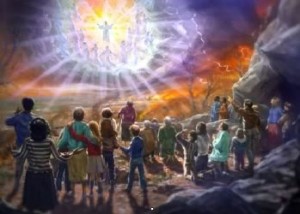 I would expect that when Christ comes again, some of His time will be spent healing the sick and afflicted, much like it was in his earthly life, and like when he visited the America's. I would also expect that once Christ's reign begins our society would become much like the Nephites were in 4th Nephi. In this case priesthood holders could also be given great power over sicknesses. Either one of these strike me as a very real possibility for your question.
Until then, hold tight to the Word of God during your trials. Have faith in him that your afflictions will be turned to your gain, and that your suffering even if it is great now, will be but for a moment when we gain what Christ has for those that follow him.
Gramps