Question
Did Christ wear garments or when did the wearing of garments begin?
Nancy
Answer
Nancy,
Sacred temple clothing worn by Latter-day Saints (including garments) exists as part of a larger landscape of holy vestments. When Moses was first instructed on true temple worship, he was told the specific clothes Aaron's descendants should wear, with additional clothes set apart for the high priest (Exodus 28). Each article of the holy clothing served as a reminder of the priest's duty and the righteous standard to which he must adhere to officiate in his office (Ex 28:36-38). Before Moses, Israel gave his son Joseph a coat specially marked to show his favor (Genesis 37:3). This coat became a pattern for Captain Moroni to mark his own coat in token of a national covenant (Alma 46:11-27). Even earlier than all this, Adam's coat of skins (Gen 3:21) shows up repeatedly in tradition associated with covenantal birthright (The Book of Jasher 7 & 27).
Jewish men at the time of Christ wore five articles of clothing: a headdress, shoes,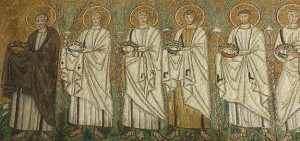 inner garment, outer garment, and girdle (Doctrinal New Testament Commentary 1:820). These articles were augmented according to the Mosaic covenant passed to Israel. They wore little blue fringes on the hem reminding them to observe strict obedience to the commandments they were given (Numbers 15:37-40).
Additionally, some Jews and early Christians from this period and a little later marked their garments with capital rhos and gammas (Greek R and G), as seen in the image I've included. I have personally seen one such cloth augmented with this so-called gammadia from a Masada excavation. The purpose of these markings was not well documented, but some scholars currently speculate that they have a religious or ritual significance.
Out of respect for today's holy temple clothing, I will not embark on a direct comparison between these sacred clothes and the ones we wear today. I do, however, think I have made it clear that the principles behind sacred vestments date back specifically to both New Testament and Old Testament times, with general themes playing out as early as the Genesis period.
Gramps