How can the Savior have strong resistance from temptation? He did not attempt to and refuse to do it at all. I applaud Him. But I wish I could be like Him, HOW can I?
Vegas
_________________
Dear Vegas,
My dear friend, your question is one that everyone should be asking. This should be our life goal, and all that we do should be a part of trying to become like the Savior.
I think too often we believe it is more complicated than it really is. We look for big, profound answers to our questions, especially when the challenge seems nigh impossible. Perhaps part of the answer can be found in king Benjamin's address to his people.
Mosiah 3: 19 For the natural man is an enemy to God, and has been from the fall of Adam, and will be, forever and ever, unless he yields to the enticings of the Holy Spirit, and putteth off the natural man and becometh a saint through the atonement of Christ the Lord, and becometh as a child, submissive, meek, humble, patient, full of love, willing to submit to all things which the Lord seeth fit to inflict upon him, even as a child doth submit to his father.
I would like you to pay particular attention to where he says "willing to submit to all things which the Lord seeth fit to inflict upon him." This is truly the example the Savior showed to us. Even in the most perilous moment in all of human history, where He began to feel the weight and burden of the sins of mankind, we see His example to follow the Father's will in all things.
Matthew 26: 42 He went away again the second time, and prayed, saying, O my Father, if this cup may not pass away from me, except I drink it, thy will be done.
Luke 22: 42 Saying, Father, if thou be willing, remove this cup from me: nevertheless not my will, but thine, be done.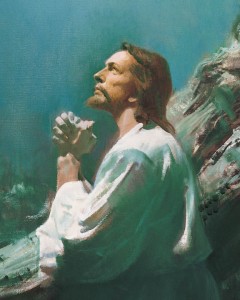 Notice that the Savior approached the Father in prayer, seeking another way to accomplish His will. However, in spite of what He knew was ahead of Him, He yielded to the will of the Father, even at the risk of an unknowable and unfathomable pain and suffering.
Like the Savior, we have to learn to so trust the Father's will as to know and understand that His desires are far better for us than anything we can imagine, especially at a time of pain and sorrow, or struggle and adversity. We must come to so know and love the Father that we will do His will, even when it is not what we desire for ourselves.
This is not accomplished in life's greatest challenges. The large struggles we face are where our trust and faith in the Lord are shown, not where they are developed. Our love for the Lord and our firm testimony in Him is developed simply by living our lives everyday with Him at the center. Saying our prayers and reading our scriptures are central parts to gaining the kind of faith and trust you ask about.
Alma speaks of this principle:
Alma 37: 6 Now ye may suppose that this is foolishness in me; but behold I say unto you, that by small and simple things are great things brought to pass; and small means in many instances doth confound the wise.
He goes on to tell how the Liahona was a small and simple thing, and how, according to their faith, it would lead and guide Lehi's family across the wilderness. When they ceased to exercise faith, the Liahona stopped working.
44 For behold, it is as easy to give heed to the word of Christ, which will point to you a straight course to eternal bliss, as it was for our fathers to give heed to this compass, which would point unto them a straight course to the promised land.
So, by exercising their faith in the small and simple things of life caused this compass or director to show them the way to the promised land. In my opinion, that is the greatest, physical example in the scriptures of how it is accomplished.
King Benjamin, and other prophets, and even the Savior Himself, compared it to becoming as a little child. I think therein is the key. Study what it is that makes little children do what their fathers say, and then try to apply that learning to your relationship with Father in Heaven.
Gramps