Question
Gramps,
Hi. I'm struggling to understand the Book of Mormon and to believe it's true.   Can you please help me?
Kayla
Answer
Hi Kayla,
Thank you for your question. It appears you have a sincere desire to truly "understand" the Book of Mormon and I greatly commend you on that.
Reading any historical document can be challenging at times, especially if we don't do it on a frequent basis. Please don't allow yourself to become discouraged at this situation as I believe the Church and others have produced a variety of study aids in trying to help us better "understand" the Book of Mormon.
In conjunction with reading the Book of Mormon, I find it helpful to use visual aids and simplified wording. The simplified words can help you internalize the basic timeline, people and principles taught in the Book of Mormon. Once you feel comfortable, you can then supplement your studies by reading directly from the Book of Mormon until you eventually feel comfortable enough to be weened off the aids completely.
Here is a resource you might consider trying to kick start your studies:
"Book of Mormon Stories" – This is a visual, simple to read, study aid produced by the Church. You can purchase your own paperback version of the book: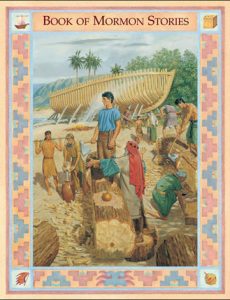 or the Church offers the digital version for FREE here. In addition they have turned it into a video series instead, click here.
Here is an example:
Remember that "understanding" the Book of Mormon is different than "believing" in the Book of Mormon. Understanding it gives you a stepping stone towards belief. Hopefully with that understanding you can approach Our Father in Heaven in prayer and ask him for your own personal witness that the Book of Mormon is in fact the word of God.
Again, I commend you on your sincere desire (heart) to know for yourself. When you have a moment, try talking with the missionaries and have them help explain the promise found Moroni 10:3-5.
3 Behold, I would exhort you that when ye shall read these things, if it be wisdom in God that ye should read them, that ye would remember how merciful the Lord hath been unto the children of men, from the creation of Adam even down until the time that ye shall receive these things, and ponder it in your hearts.

 4 And when ye shall receive these things, I would exhort you that ye would ask God, the Eternal Father, in the name of Christ, if these things are not true; and if ye shall ask with a sincere heart, with real intent, having faith in Christ, he will manifest the truth of it unto you, by the power of the Holy Ghost.

 5 And by the power of the Holy Ghost ye may know the truth of all things.
Warm Regards,
Gramps