After Moses spoke with and met the Lord face to face he came down off the mountain. The scriptures say that he had to veil his face. I know that this was because his countenance was brighter. Did he wear the veil also because the Lord did not want them to see Moses'countenance so bright? Is there any more to the story that you can share? Thanks, you're great!
Darren
___________________
Dear Darren,
We have have not been told exactly why Moses veiled his face at times after he came down from the talking with the Lord on the mount. This leaves us in the realm of scholarship and theories. Which given the span of time is by no means conclusive.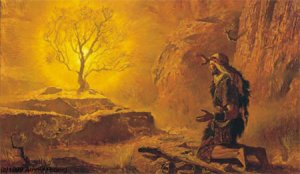 There are four ideas currently about trying to explain the purpose and use of the veil. The first one is that it was used to help the Israelite over come their fear of Moses's changed appearance. The second one was the idea to hide transitions as the glory left Moses's face. The third idea was that it was to protect the people of Israel from the Glory of God (ie they were unworthy). The fourth idea was that the veil was used symbolically. When Moses was without the veil he was speaking officially on behalf of the Lord, when he was veiled he was just himself.
I find myself liking the fourth option best. It matches with my understanding of how the Lord works through prophets. And while I can see the possibilities of the other three they just don't seem to be complete enough in explaining all the events as recorded.
Gramps