I know that all will be resurrected–that is the gift of immortality. Will there be resurrected spirits in the millennium who have not had their work performed/nor have they accepted the gospel of Jesus Christ. OR are those individuals reserved to come at the end of the millennium? Am I still being confusing? I trust your answers and they are simply stated. Thank you for all your time and wisdom you share on your site.
LaVon
_______________
LaVon,
I can see how you can get confused on this. The earth's temporal and spiritual histories intersect with our own so often it can be difficult to keep them straight.
All ordinances that have been revealed to us must be performed in this life. Elder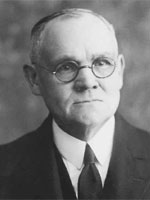 Talmage, speaking specifically of marriage, states "In the resurrection there will be no marrying or giving in marriage; for all questions of marital status must be settled before that time, under the authority of the Holy Priesthood, which holds the power to seal in marriage for both time and eternity" (Jesus the Christ ch 31). Similarly, all questions concerning baptisms, confirmations, and all other saving ordinances must be settled before an individual is resurrected. In practical terms, this illustrates the importance of receiving these ordinances when they are presented to us. For those that have died without the opportunity, they will need these ordinances vicariously before they are resurrected. In the spirit world they are taught the principles of the gospel and offered the proxy ordinances (see D&C 138:33-34).
During the Millennium the saints will be visited by resurrected beings to assist in this work. Joseph Fielding Smith wrote that during this period of a thousand years "resurrected beings will help us correct the mistakes we have made in doing research concerning our dead ancestors. They will also help us find the information we need to complete our records" (Doctrines of Salvation, 2:167, 251–52). Note that these persons, already being resurrected, are not requesting their own records or ordinances, but rather those of others who have not yet received the ordinances and thus have not yet been resurrected.
-Gramps
(Visited 6 times, 1 visits today)