Hello Gramps,
Wouldn't the earth be too small to hold all the resurrected people in the Millenium ? Already about 108 billion people have ever lived. Even if God would resurrect only 20% of people, this might get pretty crowded. And what if god is a little more generous and forgiving and resurrects 50%? This planet simply would not have the capacity. And if you make the planet as big as Jupiter we would all be crushed by it's gravity.
Andre
______________
Andre,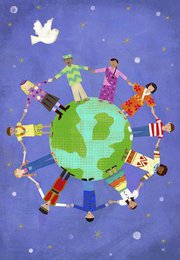 I'm afraid you've been misinformed about what happens in the Millenium. When Christ begins his personal reign the earth will be renewed to its paradisaical glory. At that time, anyone who will not live a terrestrial law will be removed from it. Those that remain will continue to live their lives, raise children, and eventually finish their sojourn in mortality. This will continue for a number of generations (enough to fill 1000 years). Those who die are changed in the twinkling of an eye, from mortals to resurrected immortals. Once resurrected they no longer continue their residency on the earth.
After the 1000 years (and the little season) the earth will have filled the measure of its creation and will be transformed to a celestial sphere. It is then that the earth will be inherited by the saints who have merited it.
Gramps