Is the term Elohim ever used anywhere in the scriptures?
Sandy
__________
Sandy, the term Elohim shows up several times in the Old Testament. It is a Hebrew word (that's why you don't see it in the Greek New Testament, or our modern English scriptures), the plural of eloah, that is usually translated as rulers, judges, divine ones, angels, gods, god, or God.
Using a Strong's Concordance, you'll find the word in every book of the Old Testament except Esther, Song of Solomon, Lamentations, and Obadiah. Some notable places where it turns up are
Genesis 1:1,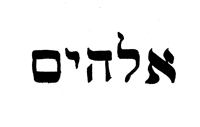 "In the beginning God (Elohim) created the heaven and the earth".
Exodus 22:8,
"If the thief be not found, then the master of the house shall be brought unto the judges (Elohim), to see whether he have put his hand unto his neighbour's goods."
Job 1:6-8,
"Now there was a day when the sons of God (Elohim) came to present themselves before the LORD, and Satan came also among them. And the LORD said unto Satan, Whence comest thou? Then Satan answered the LORD, and said, From going to and fro in the earth, and from walking up and down in it. And the LORD said unto Satan, Hast thou considered my servant Job, that there is none like him in the earth, a perfect and an upright man, one that feareth God (Elohim), and escheweth evil?"
Psalms 8:4-5, "What is man, that thou art mindful of him? and the son of man, that thou visitest him? For thou hast made him a little lower than the angels (Elohim), and hast crowned him with glory and honour."
-Gramps