When I got my patriarchal blessing several years ago, I was not worthy. I deliberately lied during the interview. I have since confessed and have been working to correct my behavior (struggles with pornography and masturbation) and have made some progress in the year I've seen my bishop. What impact does this have towards blessings I may or may not receive? Does this make it invalid that I wasn't worthy when I got it? This is something that really concerns me. What would be the consequences of this?
Thanks,
16 and confused
_____________
16 and confused,
Fortunately, our Heavenly Father is merciful, full of grace and truth. At the moment you received your patriarchal blessing, you were not worthy, however the blessing which was given by a patriarch still stands.
Your situation is similar to young men and young women who have entered the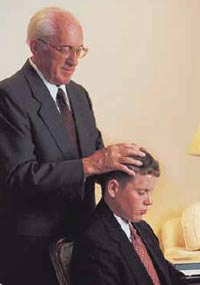 temple unworthily while receiving their endowment. Does their unworthiness at the time of their endowment impact their blessings, their gifts? Yes. If they were unworthy do they need to take their endowments out again? No.
The work has officially been accomplished. Once you have repented, confessed and forsaken your sin, and have plead with the Lord, the Lord is able to renew these blessings.
This is the same with your patriarchal blessing.
If you continue in sin, then I would bring your heart and mind to reflect upon this verse, D&C 82:10,
"I, the Lord, am bound when ye do what I say; but when ye do not what I say, ye have no promise."
Gramps