Dear Gramps,
I am 26 and am a convert to the church as of 5 years now. My testimony and knowledge of the gospel and Jesus Christ has grown immensely since I have been baptized. I am currently a Gospel Principles teacher and I love it. I don't have any regrets in my life, but one. I had the opportunity to serve a mission and I chose not to. I was afraid of the commitment and I let my worldly desires take priority over my eternal. I was recently married in the San Diego Temple and am so grateful that I had the privilege to do so. I often times feel remorse for making the choice not to go on a mission. In some way I feel that my choice not to serve my Heavenly Father has let him down and I feel heart broken over it. I eventually want to serve a couples mission with my wife. Could you perhaps offer any words of advice or comfort to help me deal with these feelings of regret? Thank you so much for all you do.
James
____________________________
James,
My father was one of the best men I have ever known in my life. My father was a student of the scriptures, and he taught me how to study them. He taught me the power of self-control, and personal discipline.
In so many ways I look up to the man that, with my mother, brought me into this life. I look at my life now with my magnificent family and what a blessing they are to me. Yet I cannot shake the feeling that I'm not quite the man my father was. I still strive to live up to his example as well as the example of Jesus.
My father never served a mission.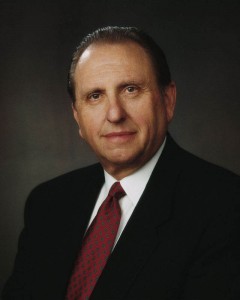 This is just one example. President Thomas S. Monson is yet another. He was in the Navy reserve during the end of WWII and was facing the possibility of being sent to war. He never served a mission, yet he has absolutely served Heavenly Father and his fellow man all the same, and is still doing so now.
Serving a mission is but one way to commit your life to the hands of Jesus Christ for his work. There will be many opportunities in the future for you to do the same, including the family you will have the opportunity to make with the woman of your dreams.
As long as you live with the spirit of a missionary, a willingness to further the spreading of the Gospel of Jesus Christ, the opportunities will come to you. Make it a matter of prayer and you'll see what I mean.
-Gramps