Question
Gramps,
Why do many saints fold their arms while praying instead of their hands? A convert of 22 years, I've never done it because no one could tell me why. I'd like to be able to tell other converts.
Ingrid
Answer
Ingrid,
I'll answer your question by asking you a question.  Why do you cross your hands instead of your arms? TRADITION!
Scriptures talk about kneeling, standing, prostrating ourselves.  But have you read any mention of hands or arms?  It may surprise you to know that there are over 100 references in the Bible alone.  We don't notice them in the English Bible because the words are often translated as "pray", "praise", "give thanks", etc.  But the literal meaning in the Hebrew (Old Testament) of many passages is to lift, raise, or extend the hands or arms.  Neither clasped hands or folded arms are ever mentioned as far as I could find.
I'm afraid not many modern Christian faiths tend to do this (raising the hands and arms).  If we wanted to be Biblical, we'd all be praying as the Muslims.  But as I read these references, I find that none of these scriptural references were instructions from the Lord on what position is the prescribed mode of prayer.  They seemed to simply refer to a common practice or cultural norms of the time.  There are a few exceptions.  Obviously, there are ordinances where we are instructed exactly what to do with our hands.  But in everyday prayer, there really is no such prescription.
Many cultures throughout the world articulate the arms and hands in various modes which are considered a sign of reverence.  Some still do the hands raised position.  Others clasp hands.  I remember a Catholic childhood friend who placed palms together without any interlocking.  In the LDS faith, we do have many who clasp their hands rather than fold their arms.  It is just a preference.  I myself tend to do either one depending on what suits my fancy at the moment.
The folding of arms is one such method that is not unique to the LDS faith.  The folding of arms was used in many older orthodox faiths.  And they are still used among the older generation and some of the oldest of orthodox faiths.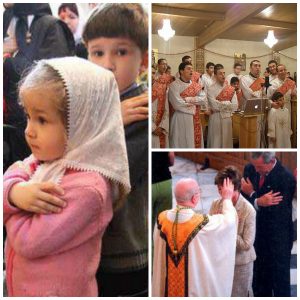 But somewhere in the 50s and 60s some of these older ways were purged from many modern faiths.  And those in the LDS faith are somewhat oblivious as to why.
The folding of arms has nothing to do with today's "grumpy stance" as if to say "I'm not listening."  It is a very old tradition with very old meanings.  There isn't anything right or wrong about any of these methods.  They just are what they are.  As long as you're reverent and open your heart to the Lord, you're getting the point of prayer anyway.
But where did it start?  What meaning was it?  That's a good question.  The truth may be lost to time.  But it does have some apocryphal (non-capitalized) origin stories.
STORY #1:
Some were told that they are invoking angelic protection as if their arms are the protecting arms of angels when they pray.
STORY #2:
Monks who led prayers would have to fold their arms to keep warm since their vow of poverty left them with insufficient warm clothing.
STORY #3: My preference
It is said to have originated from Orthodox liturgy (including Catholicism, and goes as far back as Latin Orthodoxy) where one would cross themselves at various times of mass and prayer.  By crossing one's arms across one's heart, we are crossing ourselves just as a Catholic would cross himself for prayers. This gradually morphed over time into the simple folding of one's arms that we use today.
Doesn't that seem odd?  For a faith that has not used the cross as a symbol of worship for a good many decades, perhaps a century, we still carry along obscure traditions of the cross without even realizing it.  Well, like I said, there's really nothing right or wrong with any of these.  They just are what they are.
Gramps