What do I do to help my son gain a testimony? He has had anxiety, doing better this last year, has ADHD so he gets bored easily and has a hard time sitting through 3 hours of church. He is a good boy and so far has obeyed the Strength of Youth but he thinks the boys at church are "geeks" and he hates Utah. We moved to Utah from the Bay Area 2 years ago. What should I do? I got him to 2 hours of the 3 hour session today but he refused to go to Priesthood and came and got us out of our meeting to take him home. We are trying to read scriptures, pray and even gave him a father's blessing but he hates it and I don't know what to do. HELP!
Kathy
______________
Kathy,
As faithful members of the gospel of Jesus Christ this is surely one of the hardest experiences some latter-day saints face. We have a testimony. We teach our children. Yet, for some reason some of us experience the child who rebels against that which is good.
Your son appears to miss his friends back home. Understandable. His announcement, "the boys at church are "geeks" and he hates Utah" is disguising what is really bothering him.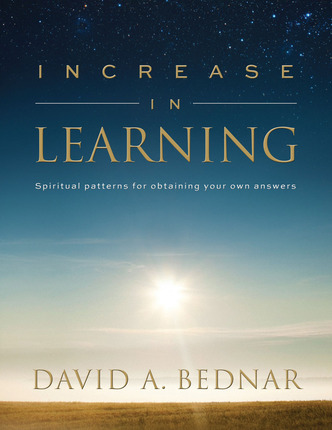 In Elder Bednar's book, "Increase in Learning," he gives us guidance when teaching children by saying, "Simple engaging in the activity of teaching is not the responsibility we have been assigned. Rather, the charge is to teach children to understand."
He further shares, "A confirming spiritual witness in our hearts concerning the truth of what we have come to know in our minds is obtained through the process of revelation."
In light of these two thoughts provided by Elder Bednar, it appears your child has simply not yet understood what you are teaching, and this understanding must come from a spiritual witness to his heart from the Holy Ghost.
I would suggest, if you haven't already, discover what doctrinal truth he is not yet understanding. Continue to invite him to pray and seek personal revelation himself.
My question to you is when he comes to get you, why give in to his request to go home? This rewards his behavior and he knows he can do it again. If we give in once, it makes it harder the next time to say "No."
The Lord bless you in your efforts to help your son.
Sincerely,
Gramps