How can I, now at age 49, still receive my Patriarchal Blessing? I've always felt it was important for me to know. When I was in MIA it was going to be arranged for us, but never was. Even though for the last 20 years I was married to an atheist, I have always lived my life, and taught my children to, with the standards and beliefs I was taught in church as a child and young adult.
April
_________
April,
You certainly can get a patriarchal blessing if you so desire one. Receiving one is not mandatory in the church, and not having received one has no effect upon your worthiness before God. Since you have a desire for one, I think you should pursue it. Ask for your Bishop to set a time with the Patriarch. Once you have the appointment, think about things you want to know. Prayerfully consider questions you would ask Heavenly Father about. Often times people will fast the day the blessing is given.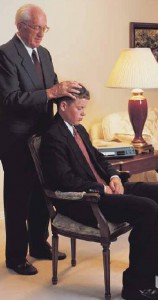 When you meet with the Patriarch talk with him about your expectations. He will have some councel for you, and he may explain what to expect. During the blessing, some parts will stand out over others, but don't worry about remembering it all. You'll get a copy of your blessing later so you can read it over as needed. Focus instead on the feelings and promptings of the Spirit.
-Gramps