Question
Gramps,
My 8 year old granddaughter asked me "Where is Heaven". I tried to explain to her but I don't think I got the message across very well. What would you say? Please.
Diane
Answer
Diane,
When teaching our children, it is sometimes better to turn their questions back to them than it is to give them definitive answers. If one of my grandchildren came to me with this question, I might then ask them "where do you think heaven is?" This can turn into a more educational and introspective moment than simply providing an answer, and it saves you from having to come up with your answer on the spot.
You can listen to your daughter's response, and if she seems uncertain, you can then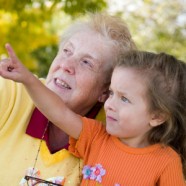 suggest where she might turn to find the answer- like delving into the scriptures together. I'm also reminded of the words of a primary song: "Heavenly Father, are you really there? And do you hear and answer every child's prayer? Some say that heaven is far away, but I can feel it close around me as I pray." This is, in itself, an answer to her question, even if it is not entirely clear. Heaven is where we find God, and we can find God in our hearts as we draw near unto Him. So while heaven may be far away, it is also near, all around us, and within us.
Gramps