Hi Gramps!
This question is in regards to doing school homework on Sunday. The spirit of the commandment given from God to man concerning the Sabbath would gravitate men towards God and away from worldly pursuits. I feel that doing homework on the Sabbath should be avoided so that time on the Sabbath will be spent doing better, more spiritual-related things. However, there are times during school where projects, homework,tests, and finals come around that necessitate an incredible amount of hours studying and working. Is doing homework or studying for school considered breaking the commandments in this case?
Thanks, Gramps!
Student from California
___________________
Dear Student,
It sounds to me that you already know the answer. The first part of your email make it sounds like you have a good grasp on the general idea of what should and should not be done on the Sabbath.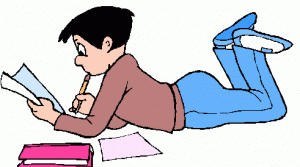 You are asking if there is an exception for when things get hard with schooling, there is not.
Don't get me wrong education is good, studying is good, and hard work is good. We are here to learn and to grow after all. Keeping the Sabbath day holy is a part of what we have been given to help us learn and grow spiritually, and if we turn it into just another day to study, for school then we trade spiritual growth for a more secular education. I would consider it a poor trade to make.
Gramps