My best friend of 14 years is a lesbian. She has been this way as long as I have known her. I joined the church 2 years ago, married my bestfriend of 5 years, who is a VERY strong LDS man as he was raised in the church. My best friend is getting married to her girlfriend this next year. She has asked me to be her maid of honor. I want to go because she is my best friend and she'd do the same for me if I asked her. My husband loves me and wants to make me happy, however he does not want me to go to the wedding, as it goes against our beliefs. I love and respect my husband, yet I also love my friend as if she were my sister. I don't want to let her down yet I don't want to disappoint my hubby. I know this goes against our beliefs and the proclamation from the First Presidency. I don't know what to do. I'm torn. Can you help me?
Jessee
___________
Dear Jessee,
I hope that I can help. However it might not be in the manner you might be expecting.
It sounds like you are relatively newly wed yourself, and that this might be the first time you and your husband have had a disagreement on an action that you both felt strongly about.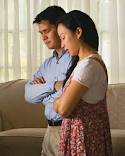 I am not going to pick a side and try to convince the other one that they are wrong. Generally this does not work and only leads to resentment and anger. I have no desire to help inflict that on your marriage.
Instead I would advise you to go to your husband and ask him to join you in fasting and prayer for the Lord to reveal his will to the both of you concerning this matter. Make it so the two of you are pulling together to find the right path rather then pulling apart in your separate ways.
Gramps